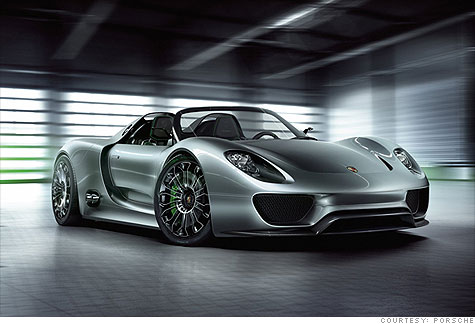 918 Spyder is a plug-in hybrid car powered by a 500-horsepower V8 gasoline engine and two electric motors -- one each in the front and rear axles -- that will produce at least 218 horsepower more, Porsche promises.
The car's top speed will be 199 miles per hour, Porsche claims, and it will be capable of zero-to-60 acceleration in just 3.1 seconds. The 918 Spyder will also be able to drive under electric power at speeds up to 94 miles per hour, at least for "limited distances."
While official fuel economy figures are not yet available, Porsche anticipates the 918 Spyder will get about 78 miles per gallon.
Now I know what you are going to say - how much fuel savings will take to purchase this baby?
forgetaboutit! - it's the insurance that's going to Kill you!
FYI - My first Porsche - a 1964 912 (up grade from the Super 90) cost $4,000,
My 2nd Porsche a 1966 911S Targa cost $6,800
Those were the days - after that it was all down hill for the next 45 years.... for me and uphill for Porsche. The thrill in 1966 was enough to carry me for a lifetime - I'm happy now with my Chevy Diesel P/U